Inside Abenomics
July 8, 2014 12:00 - 14:00
Latest reviews of Abe's reform and restructuring agenda - the "Third Arrow" of Abenomics - have been mixed. A recent cover story by The Economist was wholly positive; other media outlets are reporting that the reforms are not ambitious enough, or will soon be watered down.
Whatever the media hype, taking on corporate governance, agriculture, immigration and other key topics are huge undertakings for Japan, each of which could have huge effects on the future of the country.
Third Arrow policies relate to:
- corporate governance
- government fund management
- entrepreneurs
- corporate tax
- R&D
- women
- flexible working and the labour market
- foreign workers
- agriculture
- healthcare
Abenomics - Third Arrow - latest proposals from the Cabinet Office
Background on the Third Arrow (10 key reforms)

So, how is the success and promise of Abenomics being viewed within Japan's ruling party - the Liberal Democrat Party of Japan (LDP). And what can we, businesspeople, realistically expect the government's growth strategy to deliver over the next 12 months.
Join us for lunch on July 8 to gain behind-the-scenes insight from one of the LDP's youngest House of Representatives members, Keisuke Suzuki, on the politics and economics of Abenomics.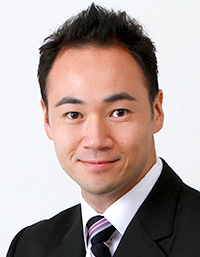 Speaker: Keisuke Suzuki, House of Representatives, Liberal Democrat Party of Japan
Born in London, UK, Feb 1977

Vice-Consul at Consulate General of Japan

Former employee of Ministry of Finance

Director, Committee on Foreign Affairs

Member, Commission on the Constitution

Elected for the first time in 2005 general election
Cancellation policy:
Paid reservation by July 2 17:00, after which there can be no refunds on cancellations. No-shows will be charged. 
First-come-first-served basis
締め切り以降のキャンセルは返金できません。(お名前の変更はできます)
Special notes:
Please let us know in advance if you have any special dietary requirements, at the time of booking.  お食事に制限のある方(ベジタリアン・アレルギーなど)は必ず事前に知らせください。当日の変更はお受けできません。
***Members can use free seat coupons to attend this event. *** (Login first and book your seat)
2014年度年会費をお支払いいただいた企業会員の方は参加費無料のクーポンを使用できます。必ずLOGINしてからお申し込みくださるようお願いいたします。
Venue Information
Shangri-La Hotel Tokyo 27F Pavilion Room
Marunouchi Trust Tower Main Building
1-8-3 Marunouchi Chiyoda-ku Tokyo
東京駅八重洲北口
Venue link
→
Access Map
→
Access Map
Payment Options:
Member Cost: ¥6,000
Non-Members Cost: ¥8,500